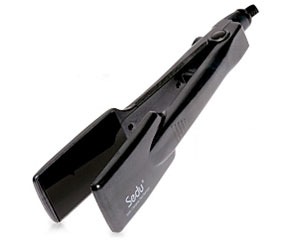 Flat irons are the popular choice when choosing to go from curly hair to straight hair.  However, all flat irons are not created equal. Here are some tips on what to look for when buying a flat iron for curly and natural hair.

Flat Iron Buying Tips:

When choosing to straighten natural hair and curly hair, having the best tools is essential for a great style and heat protection.
Heat adjustment dial- This is important in order to control the amount of heat applied to your hair. Any temperature over 375 degrees will fry your  curly hair. By having this dial it will help you maintain a healthy amount of heat to avoid damage.

Ceramic Plates- The ceramic plates smooths the ragged open hair shaft. Look for ceramic plates not ceramic coated plates. High quality flat irons have several layers of ceramic coating not just one like cheaper brands. It is best if the metal underneath is Aluminum or Titanium. Most cheaper flat irons are purely Aluminium which you will notice won't get your hair as smooth as ceramic  flat irons and may cause damage to your hair.

Shop the Top 10 Flat Irons on Folica.com
Warranty- If you plan to use your flat iron frequently you may want to buy a flat iron that has a one year warranty. Flat irons do experience a lot of wear and tear and you want to be protected if you buy a pricey flat iron and it breaks only a few months later.
Pricing-Most high quality flat irons range from $75- $200.  This may seem like a lot of money but the value and quality of use  over time would average out to your $20 and $30  flat irons. You get what you pay for. I am sure you don't want burnt strand of curls and dry hair due to an inadequate flat iron.
The most popular flat irons today are:
Sedu Pro Ionic Ceramic Tourmaline Flat Iron (1 1/2″) with free heat proof pouch: Most reviewed flat iron on Folica. Over 5,000 reviews!

FHI Platform Iron: Through this technology, negative ions are now suspended directly over the plates, maximizing the ionic effect resulting in even shinier and healthier hair.